Articles by " Jan"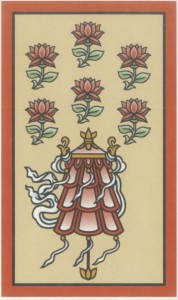 I went to see Lama Lodru last night at Blue Lotus Dharma Center and enjoyed all the "bells and smells," as they liked to say in the High Episcopal Church I used to attend. I loved lining up for the Lama's arrival, the white scarves, the bows, the incense, the cushy platform and the fancy umbrella with the dangling hearts they had set up behind it.
I wish I had taken a photo, but it just didn't feel right to pull out my iPhone in the middle of all that.
The talk itself was pretty basic. And repetitive. But I liked how he answered people's questions at the end. Kindly. Reasonable. And with a real sense of trying to help.
Overall: an uplifting evening.
Lama Lodru Rinpoche will be at The Healing Arts Center tonight and tomorrow morning. (info here) If you're thinking you might like to go…..just do it!
(image from Buddha Tarot by Robert M. Place)
Last night, at the Hi-Pointe Sitting Group, I talked a little bit about what I learned at the retreat….which is how important it is to actually notice and pay attention to whatever contentment is already present, before even starting to try to settle and focus the mind.
Then I offered this from "Free and Easy," by Lama Gendun:
Only our searching for happiness
prevents us from seeing it.
It's like a vivid rainbow which you pursue without
ever catching,
or a dog chasing its own tail.
Although peace and happiness do not exist
as an actual thing or place,
it is always available
and accompanies you every instant.
Wanting to grasp the ungraspable,
you exhaust yourself in vain.
As soon as you open and relax this tight fist
of grasping,
infinite space is there–open, inviting, and
comfortable.
Make use of this spaciousness, this freedom
and natural ease.
Don't search any further.
Don't go into the tangled jungle
looking for the great awakened elephant
who is already resting quietly at home
in front of your own hearth.
(image from Napo Tarot)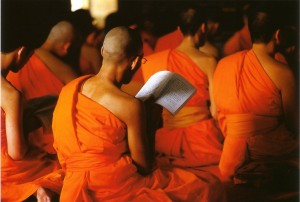 At the end of the retreat, someone asked the teachers what "one book" they would recommend….like the Bible or the Koran….to read/study/ponder as a guide in following the Buddhist path.
Phillip Moffitt immediately suggested The Middle Length Discourses: A Translation of the Majjhima Nikaya, by Bhikkhu Bodhi. It's the main text for the Dedicated Practitioner Program, and it's definitely on par with the Bible and Koran, but frankly it's a bit….daunting.
Sally Armstrong and Andrea Fella both suggested The Life of the Buddha, by Bhikkhu Nanamoli. That's a new one for me, but coming so highly recommended, it must be worth checking out.
Here's the description on Amazon.com: "Composed entirely of texts from the Pail canon, this unique biography presents the oldest authentic record of the Buddha's life and revolutionary philosophy. The ancient texts are rendered here in a language marked by lucidity and dignity, and a framework of narrators and voices connect the canonical texts. Vivid recollections of his personal attendant Ananda and other disciples bring the reader into the Buddha's presence, where his example offers profound inspiration and guidance on the path to freedom."
I think I'll add it to my list.
(image from "Offerings," by Danielle and Olivier Follmi)
I talked with Phillip Moffitt after the retreat and told him about the two KM groups we've organized to discuss his book, Dancing with Life. I told him that one of the groups is taking the time to read the book out loud, word for word, during the meetings — then stopping to discuss whatever anyone wants to discuss. And that the other group is reading the book at home, in short sections, then bringing a sentence or two to discuss with the group.
He was really touched by the care and attention we are taking and asked that I post something about our methods on his Facebook page. (Which I did, here.)
He also said that I should emphasize to the groups that the 4 Noble Truths (which are what he uses for the basis of his book) are not just Truths that are Noble, but in fact, are Truths that Ennoble. He said that he mentioned this point in the book, but was advised not to press it too strongly, for fear (on the publisher's part) that it would not be understood.
Seems pretty clear to me. But OK.
Phillip was very insistent that I make this point to the group. The truths that the Buddha taught are not just noble in themselves; they are truths that ennobles us.
There you go.
Straight from Phillip to you.
(image from  "Dancing in Colombia," by Fernando Botero)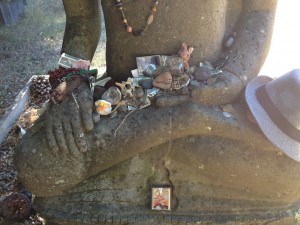 I want to write about what it was like being on retreat, about the beauty of the land, the bell in the dark of the morning, the palpable presence of stillness in a room of 100 people, the happiness and the boredom, the discomfort, the striving, the confusion, and the peace. But it's all just words.
What I really want is for you to experience this for yourself.
But I know that's not possible for everyone.
If you can't find a way to get away on retreat, then maybe you can find a quiet place, even for just a few minutes a day, where you can sit relaxed and undisturbed, and give the gift of attention to yourself.
Maybe you could even listen to one of the morning instructions we heard at the retreat, like this one here, given by Phillip Moffitt.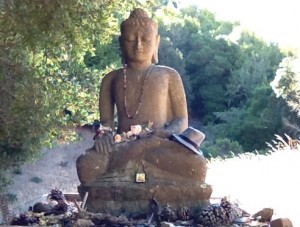 I'm back from the Spirit Rock retreat and after 10 days of silence, I'm still feeling a bit of a loss for words. So I think I'll just post some photos I took one morning, while I was taking a walk after breakfast.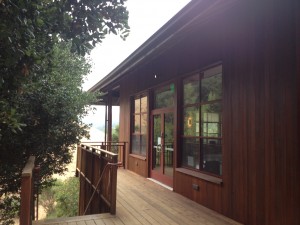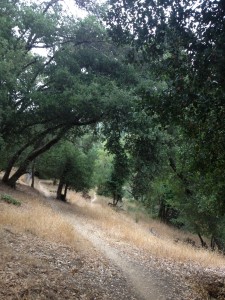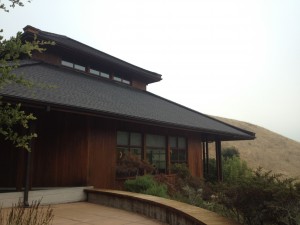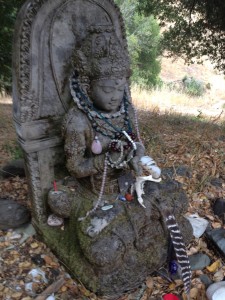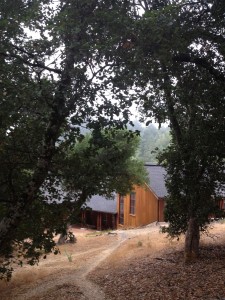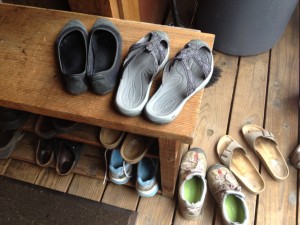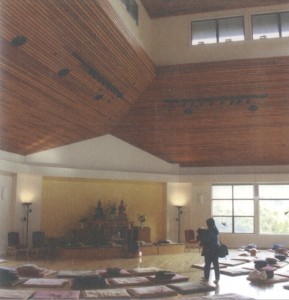 I'll be at away on retreat at Spirit Rock from Monday, August 13 through Thursday, August 23, so I won't be posting on Dharma Town till I get back. This will be my first retreat focused on Concentration Practice and I'm really looking forward to it. The teachers are Phillip Moffitt, Sally Armstrong, Andrea Fella and Tempel Smith.
Here's what the Spirit Rock Program Calendar says about the retreat:
"Concentration (samadhi), defined as the collection and unification of the mind, was emphasized by the Buddha as one of the aspects of the Eightfold Path. It can bring joy to your practice and develop the skillful use of pleasure in the meditation process. Whatever your level of practice, you can improve your Insight Meditation (vipassana) by strengthening your concentration skills. Your ability to concentrate will develop in response to the attention you give it.
"The retreat offers a series of techniques for staying on the meditation object for extended periods of time. We will explore the factors of concentration that lead to the deep absorption states known as jhana. Teachers will also give instruction utilizing concentration during insight practice."
Stay tuned!
(image from Sprit Rock publications)
At the Hi-Pointe Sitting Group last night….just as we were starting the meditation…someone, somewhere in the building, started practicing the drums.
Such is life.
It would have been even more fitting if I had brought the passage that I had planned to read, which is a teaching from Ajahn Chah, titled: Who is Bothering Whom?:
"In our practice, we think that noises, cars, voices, sights, are distractions that come and bother us when we want to be quiet. But who is bothering whom?
"Actually, we are the ones who go and bother them. The car, the sound, is just following its own nature.
"We bother things through some false idea that they are outside us and cling to the ideal of remaining quiet, undisturbed.
"Learn to see that it is not things that bother us, that we go out to bother them. See the world as a mirror. It is all a reflection of mind.
"When you know this, you can grow in every moment, and every experience reveals truths and brings understanding."
–from A Still Forest Pool: The Insight Mediation of Achaan Chah, by Jack Kornfield and Paul Breiter
(image from A Whole World, by Couprie and Louchard)
The latest issue of Spirit Rock News includes an excerpt from Phillip Moffitt's terrific new book, Emotional Chaos to Clarity: How to Live More Skillfully, Make Better Decisions, and Find Purpose in Life.
The excerpt is about generosity, which "does not mean self-sacrifice or reckless giving everything away. Such acts," Phillip writes, "are actually grandiosity disguised as generosity."
I love that he talks about generosity in such, well….generous terms. He says, "In daily life, generosity means receiving each moment with a generous attitude and meeting it with patience."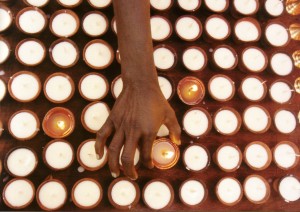 "When interacting with friends or strangers, you give them your full attention as you listen to their words, and you interpret their actions with sympathy, even when they are clumsy.
"You cultivate magnanimous thoughts that allow you to see others in their best light and to interpret their actions as well-meaning until proven otherwise.
"Being generous in your thoughts doesn't mean that you're naive or that you permit a wrong action to go uncorrected. Rather, it means that you treat every one as innately worthy of your respect and care."
What a beautiful way to live.
(image from "Offerings," by Danielle and Olivier Follmi)
Note: Dharma Town Times got hit last night with a major spam attack, so I've temporarily closed the comments section. You can always send a comment directly to me here.
The topic for this month's DPP homework is Socially Engaged Buddhism. There's a lot of reading this month, which I expect I will be posting about later on, but one of the reflections and related practice exercises has already captured my attention.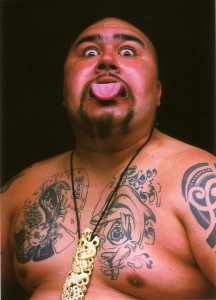 The question is: How do I work with strong emotions…such as anger, despair, sadness, etc…..that arise about the state of the world?
The practice is: When you notice yourself with a fixed opponent or "enemy"….someone you know or a public figure….investigate how you think, feel, and speak about this person, and notice if you are developing a strongly polarized position in relationship to him/her.
Hmmmm.
(image from Phaidon Portraits)