Articles by " Jan"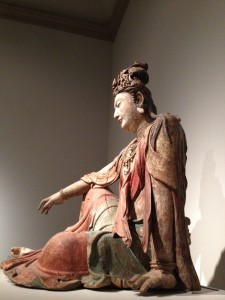 Yesterday I wrote about the "Now I See" practice I've been doing and I posted the last journal entry I wrote, after viewing Guanyin (for the sixth time.) Just to give you an idea of how the seeing can change, here's the entries I wrote after the fourth viewing:
Now I see the cracks and splits in the wood. One vertical, right through the center of his/her breast. A shallower one, just below. There's a large crack in the the drapery along the right arm. This one is deep and goes almost all the way through. Maybe entirely all the way though. And there's another one, further down on her gown. A crack that breaks like a wound into her arm. I see the mottled effect of the whitewash fading, or of having been scrubbed away. And beneath, the tanned-flesh color of wood.
I see the graceful balance of the hand — the fingers of the hand — extended but relaxed. And the resting of the arm, at the elbow, on the knee. I see..even feel…the balance, the equilibrium of tension and weight, the pull of gravity, and heaviness of muscle on bone. I see the coming to rest of forces in the thigh and the arm, the pelvis open, the weight being born by the opposite arm. Born and supported by the ground below.
I see the suggestion of an opening in the eye, an eye that sees, from the corner of the lower lid. It is as if there is an awareness, but without focus. A soft seeing. Yet alert. I feel seen. But not watched.
I see the ring of folds on her neck. The plump softness of the wood-made-flesh. And now I see her earlobe…which is huge! A strand of greyed and green-gold hair falls/wraps across-and-around that surprising pendant, which is thicker and fuller than a thumb.  
I see the complicated headdress she wears. Carved flowers and scrolls. Leaves. Buds. Stylized forms of nature suggesting growth and movement. In the center of the headdress–it's a crown perhaps–there's a flame, knotted, knob-like….the size to fit in the palm of the hand, and around the flame, a frame, flame-shaped, like a torch that is glowing, halo-ed. 
And behind the crown — the hair, in a ball or sort of a pouch, sitting slightly forward, cantilevered, on the top of her head, with a rounded knob-point at the very top. So the effect, then, is what? A crown of flowers. And of fire. Hair that is growing, but contained. And yet there is a billowing up. There is a balancing here. Something constrained. Yet alive in some way.  
In June, I posted about a contemplative practice, called "Now I See," that involves looking at a piece of art again and again over a period of time, and writing after each viewing, always starting with the phrase, "Now I see…."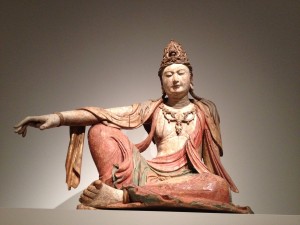 I chose an 11th century Guanyin statue, from northern China, that's here in the St. Louis Art Museum. I started the practice on July 1. As of last Sunday, I've looked — and written — six times. (I plan to do it seven more.)
I wasn't going to post what I wrote because I wanted to focus on the seeing and not on the writing.
But what the heck.
Here's what I wrote this past Sunday:
Now I see her overall grace, peace and repose. Today she is definitely a "she," though bare-chested and breast-less. The rosy pink of her robes, maybe, has something to do with it. But also the general rosiness of the glow that somehow makes itself known, though she is clearly made of wood and pigment, rubbed and worn. There is an unmistakable warmth. And honestly, a presence that is clearly not painted on.
She seems to be peace itself, though not in the lease bit passive. She sits still, yes. But there is an attentiveness. And active awareness. I'm not saying she's alive. Or sentient. Or even "real," whatever that would mean.
But I am saying that she has these qualities. That I see them. That they are present is this representation of her. In this work of art. Yes. All that. But more, too. It seems that I can "see" the intention of the artist. The craft and the genius, certainly. But also, I believe, the reverence. Reverence for the materials, of course. And for the act of creating, too. But mostly I can see the artist's attention to the qualities of grace and peace, of active stillness, of ease, repose, nobility…and yet, too, of care and attention. There is nothing disconnected or detached about her stillness. She is gently, patiently attentive. And poised to act…when needed. But there is no reactivity in her. Receptivity, yes. Opennes. Even connection. But also dispassion. Which is not to say a lack of feeling. Rather, a lack of agitation. 
And now I see her smile. Which is like a blessing. A smile of welcome. Of tenderness, of well-being. Her head is tilted slightly downward, but there is nothing condescending about it. No superiority. No distancing. Instead, I see an inclining toward. Not a reaching out–but an opening to. And now I see the inclination, the tilt, as a slight bow. Even she, the noble one, bows to that which comes before her. It is an act of acknowledgement. An act of honoring. Honor to what is. To the truth of it.
She bows. Nods. And even smiles. To whatever is present. She is not defended. She is not afraid. 
This is peace itself. This is serenity. This is grace.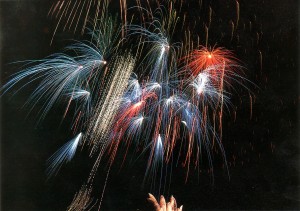 Oh….and at the end of the Hi-Pointe sitting on Wednesday night….there were fireworks!
OK. It had nothing to do with the sit. There was a free concert going on at Art Hill, and when it was over, they shot off fireworks….
….which we could see from the big, beautiful windows at the Blue Lotus Dharma Center…where we meet every Wednesday evening from 7:00 to 8:30 (shown here, in a photo taken during the day).
The Center is located at 1002 Hi-Pointe Place, which is just behind and to the west of the Hi-Pointe Theatre, so mostly what you see out the front window is the giant AMACO sign on Skinker. That, along with the Buddhas and the Thangkas and the little white Christmas lights (along the top of the maroon wall) make for quite an eclectic setting.
I love it.
Come see for yourself!
(I didn't take the photo of the fireworks above. It's just one I had in my archive of images. But you get the picture.)
Last night at the Hi-Pointe Sitting Group, I opened (and closed) the sitting with this selection from The Tibetan Book of Living and Dying, by Sogyal Rinpoche: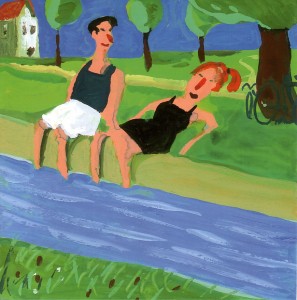 Above all, be at ease, be as natural and spacious as possible. 
Slip quietly out of the noose of your habitual anxious self, release all grasping, and relax into your true nature.
Think of your ordinary, emotional, thought-ridden self as a block of ice or a slab of butter left out in the sun. If you are feeling hard and cold, let this aggression melt away in the sunlight of your meditation.
Let peace work on you and enable you to gather your scattered mind….and awaken in you the awareness and insight of Clear Seeing. And you will find all your negativity disarmed, your aggression dissolved, and your confusion evaporating slowly like mist into the vast and stainless sky of your absolute nature.
At last Monday's "Dancing with Life" KM group we ended up talking about retreats and dharma buddies, and lots of other interesting and important things, but we never got around to reading from the book. No matter. We'll just pick up next week where we left off.
But I still want to post the passage I had planned to share with the group. Because it's one I'd somehow missed on previous readings.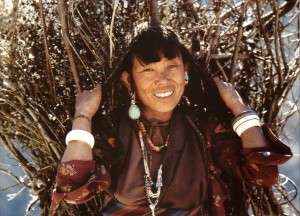 It's from page 69 (hardback edition) and it comes after the part where Phillip Moffitt uses the metaphor of a wagon that carries a load to explain the idea that bearing one's "essential, unavoidable suffering" is what allows a person to move on with their life.
The group has discussed this at several of our meetings, but we never got to the sentence that jumped out at me this time around, which is: You are being the carriage for conscious life.
Not: You are being the carriage for your own personal struggles. Or even: You are being the carriage for your own, individual life.
But: You are being the carriage for conscious life.
Here's the sentence that precedes it: "Making the radical choice to know dukkha by mindfully agreeing to bear it as your part of the burden of being human gives your life meaning, no matter how modest or challenged it is."
This, I believe, is what Phillip means when he says that the Four Noble Truths are not just Truths that are Noble, but that the living of them is, in fact, what ennobles us. 
(image from "Offerings," by Danielle and Olivier Follmi)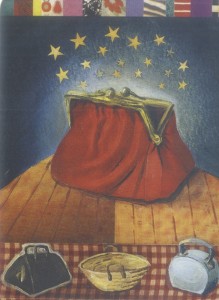 I just started reading a terrific new book: How Much is Enough?: Money and the Good Life, by Robert Skidelsky and Edward Skidelsky.
The authors begin with a review of classical, Keynesian economics (not nearly as dry as it sounds) and goes quickly on to detail the Faustian bargain Western societies have made…."that now that we have at last achieved abundance, the habits bred into us by capitalism have left us incapable of enjoying it properly."
Sad but true.
Ah, but then the authors go beyond the obvious conclusion that "the unending pursuit of wealth is madness," and propose an alternative. "Drawing on insights from all times and places, we identify seven basic goods, the possession of which constitutes living well."
I've only read to the end of Chapter 2, "The Faustian Bargain," but I've got a very good feeling about how this is going to turn out…based on the thoughtful, and quite readable arguments put forth in the first two chapters. And on the titles of the hopeful-sounding chapters to come. Which are:
Chapter 3 — "The Uses of Wealth"
Chapter 4 — "The Mirage of Happiness"
Chapter 5 — "Limits to Growth: Natural or Moral?
Chapter 6 — "Elements of the Good Life"
Chapter 7 — "Exits from the Rat Race"
Stay tuned.
(image from that unidentified deck of cards I've had forever in my desk drawer)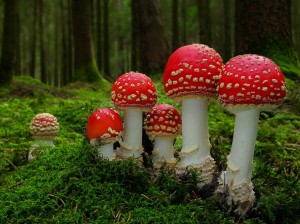 Saturday morning, Cindy, Thomas and I were sitting in Tower Grove Park….meditating….as part of the Sitting in the Park group that meets every Saturday morning from 8:30 to 9:00 am.
I was sitting with my eyes closed, noticing the sounds of the birds and the motorcycles, the church bells, the dogs, the kids, the cars, and the leaves in the trees being blown by the wind. Then thirty minutes were up and Cindy rang the bell. And I opened my eyes….
….and there were four new people sitting there meditating with us!
It was as if they had materialized, out of thin air. Or sprung up from the soil. Like mushrooms!
Of course, they had arrived on foot, like normal. But they had been so quiet. (Or I had been so oblivious.) They had come after we started, and had sat down beside us, filling in the circle, and joining in the meditation….. all without saying a word.
It was really, really lovely.
Thank you, folks. I hope to see you again.
OK, this really is last minute, but I just found out that one of my DPP teachers, Anushka Fernandopulle, will be leading a 3-day silent retreat in the Chicago area, from Thursday, September 27 (starting at 4:00pm) through Sunday, September 30 (finishing at noon). The retreat is sponsored by Insight Chicago and will be held at the Cenacle Retreat and Conference Center.
Anushka is a terrific teacher. Her style is very down-to-earth, readily accessible, and at the same time deeply profound. I don't know if there are spaces left, but if there are…and you happen to be able to get up to Chicago at the end of the month….go for it!
Click the registration link here for more info.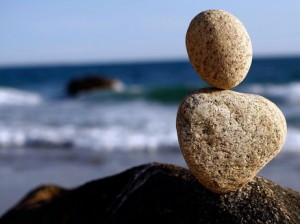 Last night at the Hi-Pointe Sitting Group, I closed our sit by reading this bit of advice from Nyoshul Khenpo Rinpoche:
I would like to pass on one little bit of advice I give to everyone.
Relax.
Just relax.
Be nice to each other.
As you go through your life, simply be kind to people.
Try to help them rather than hurt them.
Try to get along with them rather than fall out with them.
I will leave you with that, and with all my very best wishes.
Such simple advice.
Easy to hear. Hard to do.
That's why they call it practice!
My introduction to the Dharma was a 3-day (silent) Mindfulness Retreat, so maybe my view is skewed, but it seems clear to me that going on intensive meditation retreat is fundamental to progress along this path. (Plus formal meditation practice on a daily basis and active participation in a community of supportive practitioners.)
Unfortunately, we don't have a Buddhist retreat center here in St. Louis, or a resident teacher, so we don't have easy access to this very important aspect of the practice. BUT….we do have visiting teachers from time to time. AND….we do have centers of practice that offer affordable retreat opportunities, within driving distance.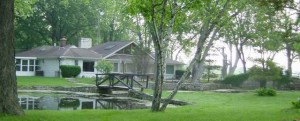 For example, the Illinois Vipassana Meditation Center (near Chicago) offers almost year-round Vipassana (Mindfulness) retreats taught in the S.N. Goenka style. These are 10-day retreats, offered solely on a donation basis. All expenses are met by donation from those who, having completed a course and experienced the benefits of Vipassana, wish to give others the same opportunity. Neither the teacher nor the assistant teachers receive remuneration; they and those who serve the courses volunteer their time. To find out more about the center, location and schedule, click here.
Several of our sangha members have attended these retreat courses and speak highly of them. They are intensive, and probably not for everyone. But the practice is well established and definitely worth checking out. I can put you in contact with someone who has attended one or more of these retreats, if you're interested. Contact me here.