Articles by " Jan"
OK, this really is last minute, but I just found out that one of my DPP teachers, Anushka Fernandopulle, will be leading a 3-day silent retreat in the Chicago area, from Thursday, September 27 (starting at 4:00pm) through Sunday, September 30 (finishing at noon). The retreat is sponsored by Insight Chicago and will be held at the Cenacle Retreat and Conference Center.
Anushka is a terrific teacher. Her style is very down-to-earth, readily accessible, and at the same time deeply profound. I don't know if there are spaces left, but if there are…and you happen to be able to get up to Chicago at the end of the month….go for it!
Click the registration link here for more info.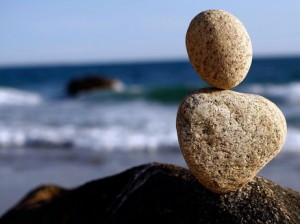 Last night at the Hi-Pointe Sitting Group, I closed our sit by reading this bit of advice from Nyoshul Khenpo Rinpoche:
I would like to pass on one little bit of advice I give to everyone.
Relax.
Just relax.
Be nice to each other.
As you go through your life, simply be kind to people.
Try to help them rather than hurt them.
Try to get along with them rather than fall out with them.
I will leave you with that, and with all my very best wishes.
Such simple advice.
Easy to hear. Hard to do.
That's why they call it practice!
My introduction to the Dharma was a 3-day (silent) Mindfulness Retreat, so maybe my view is skewed, but it seems clear to me that going on intensive meditation retreat is fundamental to progress along this path. (Plus formal meditation practice on a daily basis and active participation in a community of supportive practitioners.)
Unfortunately, we don't have a Buddhist retreat center here in St. Louis, or a resident teacher, so we don't have easy access to this very important aspect of the practice. BUT….we do have visiting teachers from time to time. AND….we do have centers of practice that offer affordable retreat opportunities, within driving distance.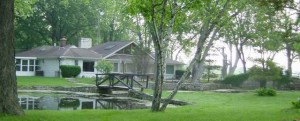 For example, the Illinois Vipassana Meditation Center (near Chicago) offers almost year-round Vipassana (Mindfulness) retreats taught in the S.N. Goenka style. These are 10-day retreats, offered solely on a donation basis. All expenses are met by donation from those who, having completed a course and experienced the benefits of Vipassana, wish to give others the same opportunity. Neither the teacher nor the assistant teachers receive remuneration; they and those who serve the courses volunteer their time. To find out more about the center, location and schedule, click here.
Several of our sangha members have attended these retreat courses and speak highly of them. They are intensive, and probably not for everyone. But the practice is well established and definitely worth checking out. I can put you in contact with someone who has attended one or more of these retreats, if you're interested. Contact me here.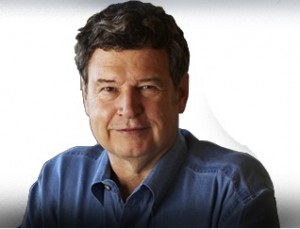 Last night the DharmaSeed KM group listened to a very entertaining talk by Phillip Moffitt about ways to look (mindfully) at making major — or minor — life changes. He talked about different kinds of changes, including developmental changes related to life stages, adjustmental changes made in response to some new circumstance, and insight changes based on a new understanding of life and its meaning.
He also talked about sex! (You can listen for yourself by clicking here.)
At the end of the talk, he offered metta (well-wishing) to everyone listening. Instead of the traditional phrases, he used ones that he and a group of incarcerated men developed during the years he taught meditation in prison.
I loves these phrases:
May you be safe from internal and external harm.
May you have a calm, clear mind and a peaceful, loving heart.
May you be physically strong, healthy and vital.
May you experience love, joy, wonder and wisdom in this life, just as it is.
May it be so.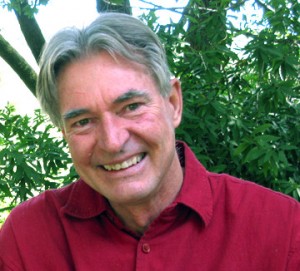 John Travis is leading a 9-day Retreat at Oakwood Retreat Center (near Muncie, Indiana) from October 19-28. It's short notice (I just found out about this on Friday night), but if you can manage to arrange your schedule and make the trip….do it!
John is terrific. He is one of the teachers at the annual New Year's Retreat at Spirit Rock, which is where I've sat with him. He's deeply, deeply rooted in both Vipassana and Tibetan practices…has a sweet, gentle style and presence…and an amazing life story that includes living in India, Nepal, Thailand and Burma. You can read more about him here.
I've already committed to be at a different retreat, or I'd be going.
Tri-State Dharma is sponsoring this event. There's no on-line registration, but if you're interested, send an email to Joan Staubach or Bridget Rolens.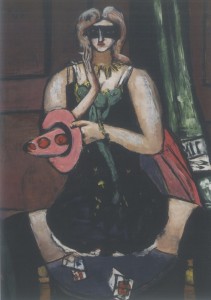 What is it about women that men find so disturbing?
Again, from this month's DPP homework: ….even the Buddha's radical move allowing women entrance into the sangha was predicated on their forgetting their sexual difference while following eight rules designed to make sure they never forgot the hierarchy between genders. (For example, the most senior, most accomplished, most perfectly practicing nun must still bow down to –and walk behind — even the youngest, newest, least disciplined monk. Simply because she has had the misfortune to be born into a female form.)
That's just wrong.
But that's how it is. To this very day! And not just in "backwards" parts of the world.
So what is it about women that men — and even some women! — find so disturbing/disgusting/dangerous?
OK. Not all men.
But still.
Is it because new life comes from inside our bodies? Because men feel powerless over their own sexual desires and so blame it on the evil, seductive powers of women?
I don't get it.
(image from "Carnival Mask, Green, Violet, and Pink," by Max Beckmann)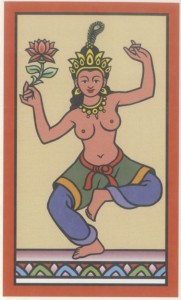 In keeping with this month's theme of Women and Sexuality in Buddhism, I read a selection from The Buddha and the Goddess, by Rick Fields at last night's Hi-Pointe Sitting Group.
Here's a taste:
Thus have I envisioned:
Once the Buddha was walking along the forest path in the Oak Grove at Ojai,
walking without arriving anywhere or having any thought of arriving or not arriving.
And lotuses, shining with the morning dew miraculously appeared under every step
Soft as silk beneath the toes of the Buddha.
When suddenly, out of the turquoise sky, dancing in front of his half-shut inward-looking eyes, shimmering like a rainbow or a spider's web,
transparent as the dew on a lotus flower–the Goddess appeared quivering like a humming bird in the air before him.
She, for she was surely a she, as the Buddha could clearly see with his eye of discriminating awareness wisdom, was mostly red in color, though when the light shifted, she flashed like a rainbow.
She was naked except for the usual flower ornaments goddesses wear.
Her long his was deep blue, her eyes fathomless pits of space, and her third eye a bloodshot song of fire.
The Buddha folded his hands together and greeted the Goddess thus: "O goddess, why are you blocking my path? Before I saw you I was happily going nowhere. Now I'm not so sure where I go."
"You can go around me," said the Goddess, twirling on her heel like a bird darting away, but just a little way away, "or you can come after me
but you can't pretend I'm not here,
This is my forest, too."
With that the Buddha sat, supple as a snake, solid as a rock, beneath a Bo tree that sprung full-leaved to shade him.
"Perhaps we should have a chat," he said. "After years of arduous practice at the time of the morning star, I penetrated reality and …."
"Not so fast, Buddha," the Goddess said,
"I am reality."
It goes on from there, but you get the gist.
(I found this in Jack Kornfield's The Buddha Is Still Teaching. He credits Dharma Gaia: A Harvest of Essays in Buddhism & Ecology, edited by Allan Hunt Badiner.)
(image from The Buddha Tarot by Robert M. Place)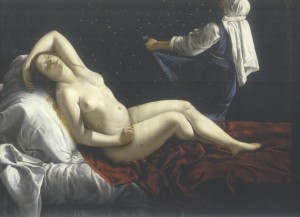 The theme for this month's DPP homework has arrived and it's a doozie! The topic is: Women in Buddhism, Sexuality and Relationship.
There are quite a lot of readings, including How American Woman Are Changing Buddhism, by Rita Gross, What's Wrong with Sex, by David R. Loy, and Buddhism and Intimate Relationships: Monogamy, Polyamory and Beyond, by Jorge Ferrer.
There are also reflections and weekly practices, including: Take a few minutes to image yourself as a female Buddha. What 3 to 5 themes usually left unaddressed by traditional Buddhism would you want to explore? (For example: oppression, new forms of leadership or intensive practice, child-rearing, family life, healthy attachment, etc.) 
And….In your meditation this month, spend 10 minutes each week being mindful of your genitals, breasts, etc. as part of mindfulness of the body. Notice how it impacts (or not) your meditation. 
Well OK then.
Should be an interesting month.
(image: "Danae" by Artemisia Gentileschi)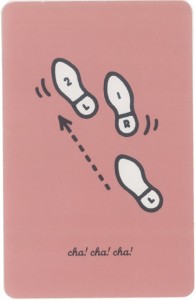 Last night at the Dancing with Life KM group, we spent a lot of time talking about the Third Insight, what Phillip Moffitt calls "knowing that you know."
On page 62, he says, "Using mindfulness in working with the Third Insight means that you practice consciously shifting your awareness….For instance, if you experience pain in your back during sitting meditation, concentrate your attention not on the physical stimulus or even your experience of the pain itself, but rather on your awareness of the pain…..
"In other words, instead of just being aware that the mind is experiencing suffering around an event, notice that the knowing of it is independent from the experience itself." (emphasis added)
I have learned that this is really the key in being able to connect with whatever's happening….without reacting to it automatically in some old, habitual way.
On page 63, Phillip goes on to say, "You will quickly notice that this awareness is untouched by what it is aware of, regardless of whether it is pleasant or unpleasant. It is simply there, knowing that it knows. Note, however, that this knowing is not removed from or indifferent to the experience; rather, it offers you an expanded perspective on the experience. It opens you to the awareness of awareness itself."
This may not sound like much. But in my experience, it's the difference between being on "auto pilot" and having a conscious choice in the way you live your life.
(image from Q-card by zolo.com)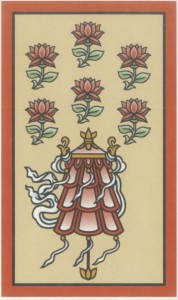 I went to see Lama Lodru last night at Blue Lotus Dharma Center and enjoyed all the "bells and smells," as they liked to say in the High Episcopal Church I used to attend. I loved lining up for the Lama's arrival, the white scarves, the bows, the incense, the cushy platform and the fancy umbrella with the dangling hearts they had set up behind it.
I wish I had taken a photo, but it just didn't feel right to pull out my iPhone in the middle of all that.
The talk itself was pretty basic. And repetitive. But I liked how he answered people's questions at the end. Kindly. Reasonable. And with a real sense of trying to help.
Overall: an uplifting evening.
Lama Lodru Rinpoche will be at The Healing Arts Center tonight and tomorrow morning. (info here) If you're thinking you might like to go…..just do it!
(image from Buddha Tarot by Robert M. Place)