Articles by " Jan"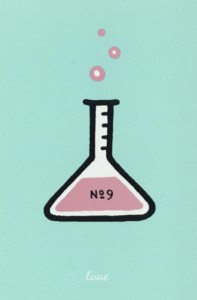 At the Metta Retreat I sat with Sylvia Boorstein many years ago, she told a story about learning the practice from Sharon Salzberg. The first thing Sharon had her do was to memorize the traditional "Benefits of Metta" which goes like this:
People who practice Metta,
Sleep peacefully,
Wake peacefully,
Dream peaceful dreams.
People love them,
Angels love them,
Angels will protect them.
Poisons and weapons and fire don't harm them.
Their faces are clear.
Their minds are serene.
They die unconfused.
And when they die, their rebirth is in heavenly realms. 
At the retreat, Sylvia had each of us consider which of these benefits we most wanted for ourselves. If she had asked us to say publicly which one we had chosen, I probably would have said: "their minds are serene." But the truth is, I really wanted: "people love them." I smile when I think of that now, but back then I had the idea that since I didn't have a romantic partner, I didn't have love.
I have been practicing Metta for several years, and I guess you could say it has "worked," because although I still don't have a romantic partner, I certainly don't feel that I don't have love.
Maplewood Metta meets tonight and every Tuesday night. It's a small group, but very, very sweet. We read the Metta Sutta, then sit for 30 minutes, then share whatever is on our mind. It's really a pleasure and I'd love for more people to attend.
Where: Jon Yaffe's house in Maplewood. Contact him here for the address.
When: Every Tuesday, 6:30 to 7:30 pm  
I hope to see you there.
(image: Q-cards)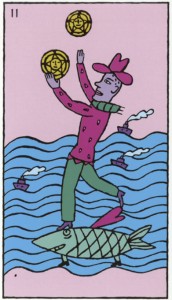 Last month's DPP homework wasn't just about Dependent Co-Arising. We also had readings, reflections and exercises on the nature of faith. It's important to note that in Buddhist practice, faith does NOT require a belief in some force outside ourselves, but rather a realization that we suffer and that it might be possible for that suffering to come to an end.
Here's a passage from one of the readings by James Baraz:
"A few years ago, I had the opportunity to study with an Advaita Vedanta teacher in India named Poonja-ji. Without relying on any particular method, he simply encourages his students to rest in relaxed awareness. Poonja-ji talks about the potential to being awakened in this moment, not ten years or ten lifetimes from now.
"One day I asked him, 'How do I know that I have a right to be enlightened, that I have enough good karma to awaken?'
"He looked at me and said, 'You've come from the other side of the world with deep commitment, here to this place in India, with company of good friends and a good teacher. The Dharma is your whole life. Look around you. You are neck-deep in grace, and you're wondering if you have enough!'
"We are all neck-deep in grace. We share an extraordinary karma, being interested in and able to take the time to deepen our understanding, to enjoy support, and have the conditions and opportunity to practice.
"Reflecting on these blessing can deepen our faith."
(image: Kity Kahane's Tarot)
And now for something entirely different…..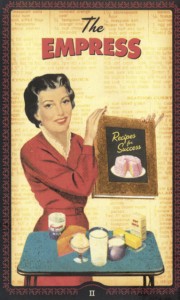 At the Dharma Seed KM group last Monday night, Roberta brought muffins. Not just any old muffins. They were home-made, Seven-Factors-of-Enlightenement Muffins from Gloria Ambrosia's "The Complete Muffin Cookbook." And yes, that's the same Gloria (Taraniya) Ambrosia who teaches at IMS (Insight Meditation Center) and the Barre Center for Buddhist Studies.
The Seven Factors of Enlightenment from a Buddhist perspective are: mindfulness, investigation, effort, rapture, concentration, tranquility, and equanimity. In the case of muffins, however, the Seven Factors are: applesauce, brown sugar, granola, chocolate chips, coconut, walnuts, and sunflower seeds.
Needless to say, the muffins were AWESOME. Thank you Roberta! Here's the recipe. (Yields 12 to 14 muffins)
Dry Ingredients:
1 1/2 cup whole wheat flour
1/2 cup unbleached white flour
1/2 cup light brown sugar
2 teaspoons baking powder
1/2 teaspoon baking soda
1/2 teaspoon ground cinnamon
1/4 teaspoon sea salt
Wet Ingredients:
2 cups buttermilk
1/4 cup canola oil
1 large egg
2 teaspoons vanilla extract
Goodies:
1/2 cup granola
1/2 cup semi-sweet chocolate chips
1/2 cup flaked coconut
1/2 cup coarsely chopped roasted walnuts
1/2 cup roasted sunflower seeds
Topping:
1/4 cup flaked coconut
Here's how:
1. Preheat the oven to 375 degrees F.
2. Sift the dry ingredients together in a large bowl. Add the goodies and toss to coat.
3. Whisk the wet ingredients in a medium bowl or blend in a food processor. Pour the wet ingredients into the dry mixture. Stir just until mixed. Do not overstir.
4. Spoon the batter into a greased or papered muffin tin. Fill each cup nearly to the top. Top each cup of batter with a pinch of coconut, taking care to sprinkle it evenly over each cup. Too much topping piled high in the middle will prevent the muffins from rising properly.
5. Bake for 15 to 20 minutes.
6. Cool the muffins at least 10 minutes before removing from the tin.
(image: Housewives Tarot)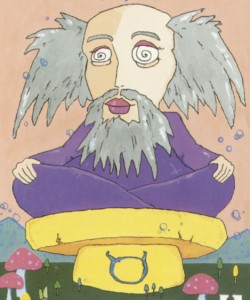 In reading the transcript of Christina Feldman's talk on Dependent Co-Arising (for the DPP homework assignment), I was struck by her comments on the paradox of meditation, which is that we practice "being with what is," but we do it in order to develop greater peace, clarity, compassion and wisdom. (Which sounds like we're trying to find something better than what is.)
Here's what she says, "This is actually an interesting paradox because it straddles a very fine line. One part of meditation, for example, is the capacity to be in harmony with what is. At the same time, there's a visionary part in every spiritual practice which is about what is possible. Holding these two together is the challenge of the practice; being with what is through our meditation training, we need to separate from any sense of resignation or passivity.
"Positively, being with what is means seeing the true nature of what's happening in the moment — it is arising, it is passing, it has its own flavor, etc. On the other hand, knowing what is possible means giving attention to our own capacities for awareness and wisdom, and having the clarity to hold what is happening in the light of wisdom. That's the visionary part.
"So it's not about changing the world; it's not about changing myself into a more enlightened self. It is about the sense of trusting the vision that freedom, clarity and very deep and powerful levels of understanding are possible, that they begin and are born in what is within the field of our experience right now.
"We don't meditate in order to stay the same. We don't meditate in order to reject whatever is present in the moment. We meditate in order to find the possibility in the moment, first through seeing the capacity for freedom within that moment."
(image: Phantasmagoric Theater Tarot)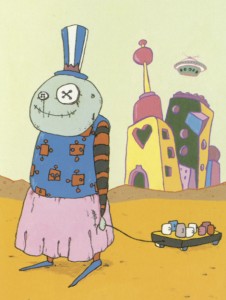 So what's the point of all these links? Christina Feldman says that Dependent Co-Arising is "really the heart or the essence of all Buddhist teaching. What is described in the process is the way in which suffering can arise in our lives, and the way in which it can end…It describes a vision of life or an understanding in which we see the way everything is inter-connected — that there is nothing separate, nothing that stands alone, everything affects everything else."
The Buddha described the basic principle of dependent co-arising as: When there is this, that is. With the arising of this, that arises. When this is not, neither is that. With the cessation of this, that ceases.
Christina Feldman says, "When one thing follows after another — one cycle of reaction, one cycle of response, once cycle of being locked into an opinion or a feeling or a mind-storm…when all of that is happening, there is a feeling of wandering, being pushed from one state to another, seemingly without choice, sometimes not knowing how we got there…
"This sense of wandering in confusion or blindly from one state of experience to another, one state of reaction to another, one state of contraction to another is called samsara…the movement from one state of perception and experience to another without knowing what's going on…
"It is not unusual to have this experience…and to feel quite powerless because of the confusion present in that situation. Understanding how things come together, how they interact, actually removes that sense of powerlessness or that sense of being a victim of life or helplessness. Because if we understand how things come together, we can also begin to understand the way out, how to find another way of being, and realize that life is not random chaos.
"Another effect of understanding causes and conditions means accepting the possibility of change. And with acceptance comes another understanding that with wisdom, we have the capacity to create beneficial and wholesome conditions for beneficial and wholesome results.
"And that's the path — an understanding that we have the capacity to make choices in our lives that lead toward happiness, that lead toward freedom and well-being rather than feeling that we're just pushed by the power of confusion or by the power of our own misunderstanding. This understanding helps to ease the sense of separateness and isolation and it reduces delusion."
(image: Phatansmagoric Theater Tarot)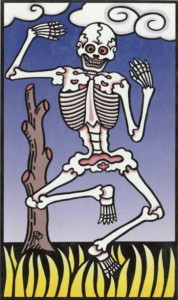 The last link in the chain of Dependent Co-Arising is jaramarana, usually translated as "aging and death." That which arises, passes away. That which is born…dies.
This is not meant to be morbid. Or depressing. It's just the way it is. And not only for our physical being. When we identify strongly (take "birth" in) a particular state of being, we set ourselves up for the inevitable sense of loss that comes when things change.
So what to do?
Christina Feldman says, "What's important to remember is that none of this is predetermined. Just like the climate for snow, the presence of certain of these links is going to allow other experiences to happen. Not that they must happen, or definitely will happen, but they allow for certain experiences to happen."
She describes the Third Noble Truth (that there is an end to suffering) as a "portrayal of the way in which it is possible to step off a sense of being bound to this wheel of samsara or to the links of dependent origination. It is significant to remember that it doesn't have to be any one link that we step off of, or that there is only one place where we can get out of the maze. In fact, we can step out of the maze and into something else at any one of these links."
Jaramarana is also translated as "aging and dying, grief, sorrow, suffering, lamentation and despair." Whew. For the DPP homework, I think I'm going to keep it simple: "death."
(image: Buddha Tarot)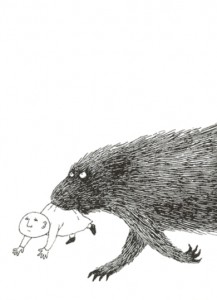 The next link on the chain of Dependent Co-Arising is jati, which translates as "birth." This is the "moment of arrival," the sense of "I've got it!" or "this is who I am."
Christina Feldman says that this is the moment of "emergence of an identity, a sense of self that rests upon identifying with a state of experience or mode of conduct…the do-er, the thinker, the seer, the knower, the experiencer…..the sufferer."
Suffering is, of course, what eventually happens. Because being someone or something always comes with the stress of defending that state, with trying to keep it going, or controlling it in some way. Which can not be sustained.
That which arises, passes away.
This leads us to the next link of the chain (coming tomorrow).
Stay tuned.
(image: detail from illustration by Edward Gorey)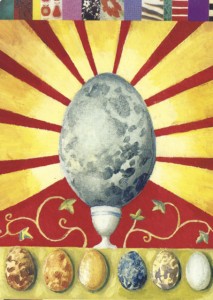 The next link in the chain of Dependent Co-Arising is bhava, usually translated as "becoming." When we cling to the idea that something….or someone….can make us happy (or unhappy), or that our views/opinions/beliefs are RIGHT (and therefore need to be defended), or we when hold onto some idea about who we are and the way things SHOULD be — then we have started to become that belief.
Here's what Christina Feldman says, "Clinging is followed by becoming — the entire process of fixing or positioning the sense of self in a particular state of experience. Any time we think in self-referential terms…'I am angry,' 'I am loving,' 'I am greedy,' etc….an entire complex of behavior is generated to serve craving and clinging. I see something over there that I've projected as the thing 'that is going to make me really happy if I get it,' and then I organize my behavior, my actions and my attention in order to find union with that. This is the process of becoming — becoming someone or something other that what is."
Bhava is also translated as "being," or "arising," but I've gotten used to "becoming" as the standard translation, so for the DPP homework, I'm sticking with that.
(image: this is one of those old cards I've had in my collection for years. I don't know who to credit.)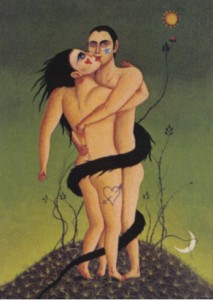 The next link in the chain of Dependent Co-Arising is upadana, usually translated as "clinging." The previous link, "craving," has a directional momentum to it, and when that impulse to move becomes intense (which it almost always seems to do), craving turns into "clinging."
Clinging to sensuality or sense objects is one of the ways we create suffering for ourselves. Christina Feldman says, "Pleasant feelings, rather than satisfying us and making us feel this way or that, often produce a desire for more as well as a desire to hold on, which in turn creates more clinging."
But the feeling that this is something I need is pretty convincing.
Christina goes on to say, "I think there's an easy way to distingue between craving and valid need, and this is that one can be satisfied and the other can't. If you're very hungry and you eat, it's enough, right? The hunger is gone and you move on. If it's an insatiable hunger, say, or addition to food, that's never satisfied.
"If you have a valid need to eat, sleep, to be sheltered…your pathway is often very clear. It's not complicated. But that doesn't seem to be true of craving. There's a kind of floundering, obsessiveness, busy-ness around it. It's not so simple."
Upadana is also translated as "grasping," or "attachment." But I like the literation of "craving" and "clinging," so for the DPP homework, I'll stick with "clinging."
(image: Tarot of the Witches)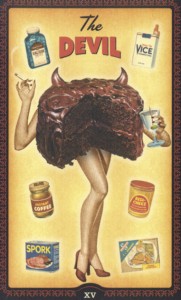 The next link in the chain of Dependent Co-Arising is tanha, usually translated as "craving." This is the point where "Ah, this is pleasant," turns into "I want more!" (Or "Yuck, this is unpleasant," turns into "Get that away from me!" Or "Hmmm, this isn't pleasant or unpleasant," turns into "BORING!")
Christina Feldman says, "It is at the point where craving arises in response to pleasant or unpleasant feeling that our responses become very complex. And it's also a place where we run into a world of struggle. The important thing to remember is that craving is also a kind of moment-to-moment experience; it arises and it passes.
"Within our condition it becomes the foundation of developing specific attitudes and values…So we say, 'This has the power to make me happy.' Or 'This has the power to make me unhappy. If I get this thing or I get this meal or I get this experience, then I'm going to be happy. If I don't get it, or if I get something that I don't want, then of course I'm going to be unhappy.'
"So what happens through craving is that in a way we delegate authority to an object or to an experience or to a person. And of course, in delegating authority or power to that separated entity, something else is happening at the same time, namely that we are depriving ourselves of authority. As a result, our sense of well being, our sense of contentment or freedom comes to be dependent upon what we get or don't get; or our success in being able to get or to get rid of that element…
"And yet this never ends because the promise is never fulfilled. As you know from your own experience, we get the thing we thought we always needed to make us happy, and then we lose interest in it, or get bored. So in a way there's a kind of anxiety generated through ignorance and through the sense of separation which can never be satisfied…
"You all know that kind of restlessness of appetite–there's never enough; just one more thing is needed; one more experience, one more mind state, one more object, one more emotion, and then I'll be happy….Here we are dealing with a basic, never-ending hunger."
Tanha is sometimes translated as "emotional urge," "desire," or "unquenchable thirst." I like "unquenchable," but for the homework assignment, I'm going with simple "craving."
(image: Housewives Tarot)