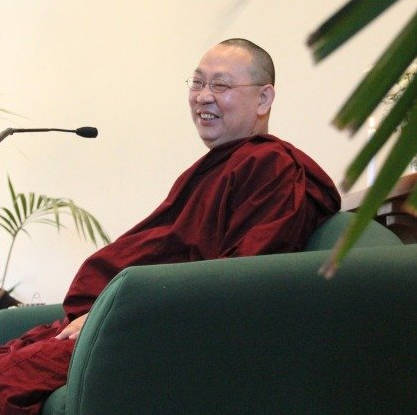 When I was in Burma a few years ago, I stayed at ShweOoMin monastery and met with the meditation master there, Sayadaw U Tejaniya (pictured), who impressed me in many ways, not the least of which was the deep tenderness I could hear in his voice every morning in the meditation hall. He spoke in Burmese, so I have no idea what he was actually saying, but he seemed to be soothing us — caressing us, even — the way a mother would sooth and caress a small child. (There, there sweetheart. It's OK. Don't worry. I'm here.)
So I was delighted when I saw he has a new book out, titled When Awareness Becomes Natural. I've just started reading it and I love it already. I can "hear" the tenderness I remember so well, but also the very direct, down-to-earth instructions he gave, when he spoke in English to our little Spirit Rock group.
Here's a sample from the book:
"The first instruction I will give a yogi who is new to this practice is to relax and be aware, to not have any expectations or to control the experience, and to not focus, concentrate or penetrate. Instead what I encourage him or her to do is observe, watch, and be aware, or pay attention. 
"In this practice it is important to conserve energy, so you can practice continually. If the mind and body are getting tired and tense, then you are putting too much energy into the practice. Check your posture; check the way you are meditating. Are you comfortable and alert? 
"You may not have the right attitude. Do you want something out of the practice? If you are looking for a result or want something to happen, you will only tire yourself. It is so important to know whether you are feeling tense or relaxed; check in repeatedly throughout the day; this also applies to daily practice at home or at work.
"If you don't do this, tension will grow. Whether you are tense or relaxed, observe how you are feeling; observe the reactions. When you are relaxed, it is much easier to be aware; not so much effort is required, and it become an enjoyable, pleasant, and interesting experience."
***
Check it out for yourself!